Our History
In the early eighties, the only Show Control Systems available were large, complicated and expensive. Gilderfluke & Co., Inc. was founded to provide systems that are small, easy to use, and inexpensive.
Our modular systems allow Show Control Systems of any size or complexity to be built by simply plugging in the appropriate "Bricks". In the late eighties, we added digital audio repeaters and public address systems to our Show Control product lines. By the early nineties we had added "Smart Bricks" for even more flexible Animation and Show Control. Soon after the release of Windows 3.1, we were able to release the first version of PC•MACs. It was the first Show Control System to be run under Windows.
In 1998 we purchased our current offices at "Gilderfluke Towers". To better support our customers in Florida and the rest of the East Coast, in 1999 we opened a branch office in Orlando, Florida. We are the only Show Control System manufacturer with permanent office on both coasts.
With the most popular Show Control Systems in the world, Gilderfluke & Co., Inc. continues to invest in the latest technologies to keep us the least expensive, easiest to use, and most technologically advanced Show Control Systems available anywhere.
Douglas C. Mobley, Founder, President & CEO
Mr. Mobley worked at various locations within the Disney organization between 1975 and 1981. These included: Disneyland, Walt Disney World, Walt Disney Imagineering, and even a little known company called Macglasham Enterprises. He was hired away to design and build the Animation Control Systems for the first Bullwinkle's Family Restaurant. After this, he spent a year developing what would become the first of Gilderfluke & Co.'s animation control "Bricks". Mr. Mobley designs most of the hardware and software used in Gilderfluke & Company systems.
Where Our Company Name Came From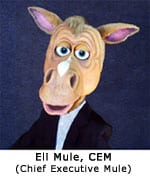 Eli Gilderfluke was a cartoon character who appeared in railroading trade magazines in the middle of the 19th century. More or less a precursor of Rube Goldberg. He developed strange inventions for steam trains. These were things like a big scoop to catch the exhaust coming out of the smoke and feed it back into the engine's firebox.