Projects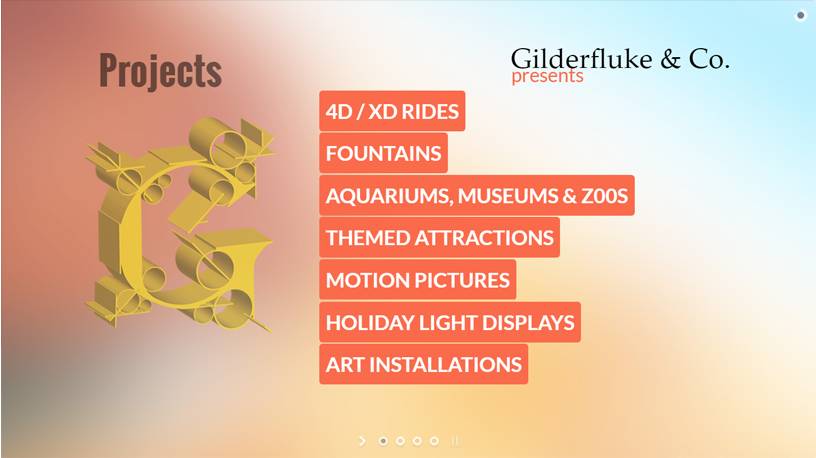 4D / XD Rides
Busan Citizens Park 4D Theater
The Busan Citizens Park 3D + 4D Theater for children, is located on the first basement level of Visitor Center with 41 seats. There are 12 sessions per day, showing various films.
Working in conjunction with R&S Production Services, Gilderfluke & Co. supplied show control gear, professional show design and programming, including a full redesign on the control and playback backend.
Art Installations
Fountains
Motion Pictures
Inspector Gadget
In the 1999 release of Inspector Gadget, the Gadgetmobile is a silver 1964 Lincoln Continental convertible with a male persona artificial intelligence. Animated by GilderGear, the front bumper is the mouth, which can smile and frown and headlights are the eyes that blink.
Walt Disney Pictures
Released: 1999
Matrix Reloaded
Gilderfluke & Co.'s USB Motion Base Joystick is used in the production of the Matrix Reloaded freeway scene where the evil Agent Smith jumps from car to car.
Warner Brothers
Released: 2003
Warcraft
Animatronics Designer, Adrien Morot created a shriveled human figure for a scene in which Gul'dan sucks the life-force from an unfortunate human victim. "It was a mix of animatronics and puppetry," said Morot. "Duncan Jones (Director) wanted to see this guy breathing and gasping for air, and then collapsing on the floor." Morot's team sculpted the character's translucent anatomy in overlapping layers, using urethane resin to cast the skeleton, and silicone for muscles and internal organs, before wrapping the whole assembly in a flexible skin of Smooth-On Sorta-Clear translucent silicone rubber. Bladders and servo-operated mechanisms, under Gilderfluke Pc•MACs computer show control software, brought the character's innards to pulsating life; the same program controlled its arms, head, and facial expressions. Wires and cables delivered the figure's gross movements, functioning somewhat like the strings of a marionette.
Production Companies: Universal Pictures, Legendary Pictures & Blizzard Entertainment
Adrien Morot Website: adrienmorotmakeupfx.com
Holiday Light Display
Callaway Gardens "Fantasy in Lights"
With approximately 8 million lights covering fifteen different scenes, Callaway Gardens is one of the largest holiday light shows in the country, if not the world.
Unlike most holiday displays, the lights and sound at Callaway Gardens are synchronized. When a frog hops across the scene, each takeoff and landing is accompanied by the appropriate sound effects.
For the last decade and a half, Callaway Gardens has used a mix of GilderGear for their displays, They started using PCs running our Pc•MACs and Pc•Pb software, with the lights networked together via DMX-512. They have since upgraded from the PCs to use a mix of Sd-10s for background audio, Sd-50s for synchronized sound and light, and Br-miniBrick8s for smaller scenes and effects and general light sequencing.
Mission Inn "Festival of Lights"
What began in 1992 as a small holiday lighting ceremony, the Festival of Lights is now a colorful cascade of over 4 million lights, and an assortment of animated characters and sculptures that decorate the entire façade of the historic Mission Inn & Spa.
Themed Attractions
My Works
"My Works", designed, manufactured and installed by Engineering Creatives, is a new concept for interactive learning in the Yas Mall in Abu Dhabi. It is based around a series of stimulating pavilions that present fun educational experiences for groups of up to six children between the ages of 4 and 12 year, and an accompanying adult. Each pavilion takes approximately 20 minutes to complete.
Engineering Creatives, Managing Director, Clive Mockford observed, "The service we have received from Gilderfluke has been excellent, and we have deployed their audio playback and amplifier systems throughout the range equipment, covering sixteen pavilions. The units are flexible to programme in the context of our PLC systems from Beckhoff, whilst the design and build quality is such that the reliably in service is excellent. We have great confidence in the durability of the systems."
Engineering Creatives Website: www.engineeringcreatives.com
Location: Yas Mall, Abu Dhabi, United Arab Emirates
Qatora's 7 Worlds
"Qatora's 7 Worlds" Dark Ride teaches visitors about the Life Cycle of Water. The vehicle takes visitors through the animated sets filled with special effects, mood lighting and intricate show props.
Working in conjunction with R&S Production Services, Gilderfluke & Co. supplied the show control gear, programming and custom coding for "Qatora's 7 Worlds" Dark Ride.
Others
Others
Akshardham Temple – New Delhi, India (Guinness World Records have declared Akshardham as the largest Hindu Temple in the world.)
FAO Schwarz
MGM Grand Hotel and Casino
Sight and Sound Ministries – Lancaster, PA
Ask Frederick Douglas
TV Commercials: Acura – sure handling all wheel drive
TV Productions: Chicago Hope
Aquariums, Museums & Zoos
Milwaukee Public Museum "Streets of Old Milwaukee"
The "Streets of Old Milwaukee" originally opened in January 1965. In honor of the "Streets" 50th anniversary, the exhibit was reimagined by further incorporating themed storytelling and a heightened sensory experience to give the visitor a different perspective on every visit.
Working closely with the Milwaukee Public Museum to enhance the visitor experience, Gilderfluke & Co.'s 4k video solution plays back scenes from Milwaukee at the turn of the 19th century through the windows of the life-size trolley car that serves as the entrance to the exhibit. In addition, Gilderfluke & Co. installed a full audio system with three separate audio zones with 'live' audio capabilities for events, as well as 'triggered' pre-recorded audio. Volume levels auto adjust per zone (area of the 'streets') based on the amount of noise in the area.
Milwaukee Public Museum Website: www.mpm.edu
Location: Milwaukee, Wisconsin, USA
Tess, the 50 Foot Animatronic Woman at the California Science Museum
In 2015, California Science Center worked with Gilderfluke to update their 18 year old Show System. A smart brick Br-Brain4 and several output cards were used to replace the old system that had been running the show. SD-25 w/DMXs and a few Amp-50s were used to replace the audio and application systems and still achieve a 105dB SPL in the room. Two Bright Sign video players with DMX and our Gilderscript were used to replace the existing laser disc video playback systems.
The original controls occupied nearly 2 full racks of equipment. The new GilderGear based system controls all the sound, video playback, animation and effects and it only occupies about 1/3 of one of the existing racks.
Through animatronics Tess blinks her eyes, her face registers emotion, her finger taps, one of her 30-foot-long legs stretches out, and her arm raises 27 feet into the air. To draw attention to her insides, Tess is outfitted with pulsating strobe and chaser lights that illuminate her circulatory, brain and nervous systems.
California Science Center Website: californiasciencecenter.org
Location: Los Angeles, California, USA
Autry Museum "Home Lands: How Women Made the West"
From ancient pueblos to modern suburbs, women have shaped the Western landscape through choices about how to sustain home, family, and community. Home Lands: How Women Made the West brings together women's history, Western history, and environmental history to show how women have been at the heart of the Western enterprise across cultures and over time.
Historical artifacts, art, photographs, and biographies of individual women led visitors through three distinctive Western environments created and inhabited by women. The exhibition was at the Autry from April 16, 2010 -August 22, 2010 and then traveled to St. Louis, Tulsa, and Santa Fe.
Autry Museum Website: theautry.org
Location: Los Angeles, California, USA
Exhibition Design: Muñiz/McNeil
Graphic Design: Joseph Prichard
Fabrication: Cinnabar