On applications where a Sd-25-w/DMX, Sd-50/8, Sd-50/40, or 'Smart' Brick Show Control System is mounted on a vehicle, wiring control signals to them is usually impractical. The InfraRed Trigger link can be used to request and play specific shows and messages through the serial port without any wires. It can be used on trains, dark rides, monorails, trams, subways, rollercoasters, and a variety of mass transit systems. When used on vehicles which are used on different routes, the appropriate messages will be selected and played automatically.
Our Sd-25-w/DMX, Sd-50/8, Sd-50/40 and 'Smart' Brick Brains have a mode to support the IR Link. This mode filters the data from the IR link before it actually starts a show or plays a sound to avoid false triggers.
In applications where all you need to do is trigger messages sequentially (not randomly) the IR Link would be overkill. Standard rollover switches, pressure mats or optical sensors should be used: Our Ir-Passive is a passive infrared motion detector. The Ir-Thru and Ir-Retro are through beam and retroreflective infrared beam-break sensors.
Features of the Ir-Rx Receiver include:
RJ-12 connector output for direct connection to all Gilderfluke & Company RS-422 serial ports.
Green LED lights to show that power is OK. Red LED shows data received from the transmitter.
Runs from any nine to twenty-four vdc source of power. This can usually be 'borrowed' from the repeater.
Features of the Ir-Tx Transmitter include:
Each transmitter can be set to continuously send requests for a specific single message.
Transmitters are placed along the path of the vehicle at each point where a different message is to be played. When the vehicle enters the range of the IR transmission, it will select and play the appropriate message. Transmitters can be placed along both sides of a track where different messages are needed for vehicles traveling in each direction.
Three high output IR diodes give the transmitter a line of sight range of approximately 20 feet indoors.
Dipswitch settings allow you to transmit requests for any one of 255 different messages.
Messages can be temporarily disabled by removing power from the appropriate transmitters.
Visible Red LED shows data transmitted.
Comes complete with small wall-mounted power supply.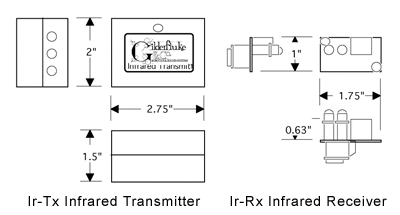 Ir-Rx Suggested Accessories:
Cut Sheet
Manual
Downloads