Package Contents:
1 – Sd-50/40
1 – Gilder CD w/Software & Manuals
Recommended Items
Suggested Accessories
Stereo Audio Playback, Show Control, Lighting Control & Amplifier System
The Sd-50/40 is a complete stand alone stereo audio playback system with 40 Show Control Outputs. The show control and DMX-512 output options make it into a complete Audio and Show Control solution.
Features of the Sd-50/40 include:
Adds forty digital (on/off) Show Control outputs to the Sd-50. Eight of the outputs can be used for controlling eight model airplane-style ServoMotors.
Stand alone stereo playback of standard Mp3 or .WAV audio files. Up to 255 different AudioFiles can be selected and played. Sound capacity is limited to 2GB (or smaller) MMC/Sd memory cards that are formatted with FAT32 only.
Optional GPS-Clock (Sd-50/GPS40) for triggering using a 365 day schedule by time or date. GPS is used where time radio signals are unavailable, or you need to trigger sounds and shows based on time or date.
DMX-512 inputs for controlling Animation & Audio. DMX-512 outputs for up to 512 channels.
Automatic "program in place" download through your PC's serial port or the MMC/Sd card. Draw the sequence you need on your computer using our easy-to-use PC•MACs software, or with "Hardwareless RealTime" mode, program using the PC's mouse and keyboard. PC•MACs will remember exactly what you do and precisely when you did it. Once programed, the PC can then go away.
Eight MBytes of nonvolatile Show Control memory. Using all forty Sd-50/40 Show Control outputs, this gives a show capacity of about thirteen hours at thirty updates per second! Once downloaded, show data is retained for approximately forty years, with or without power applied. Up to 255 individual shows can be loaded onto the Sd-50/40 at one time.
Networkable! Four optoisolated inputs can be used to start, stop, pause, continue, or access shows. They can also be controlled through the RS-232 or networked RS-422 serial ports, MIDI, or IR Triggers.
Show Control outputs are each rated for 150 ma. continuous, or 500 ma. peak. This can drive small solenoid valves, relays, LEDs, lights and other similar loads. More digital outputs can be added using Br-ZBR (Z-Bricks), PB-DMXs, Br-miniBrick8s or even additional Sd-50s. Use solid state relays for larger loads or higher voltages (Pb-08, Pb-16, Pb-24, Pb-32, SSR-FS, LC-8SP). A Digital to Analog converter (DAC-08) can be used if you need just one analog control signal. DMX-512 to Analog converters (DAC-Quad or Br-ANA) are used when you need more analog outputs.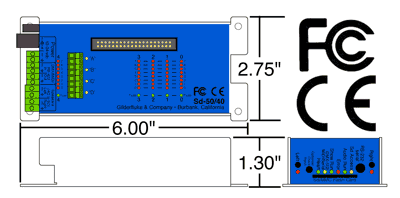 Warning: For proper operation of your SD-50 use a 2 GByte or smaller SD memory card and format it using FAT32. All other file systems are incompatible. SDHC memory cards will not work in this device.
Suggested Accessories: