Package Contents:
1 – Sd-50/GPS40
1 – Gilder CD w/Software & Manuals
Recommended Items
Suggested Accessories
GPS Synchronized Audio and Show Control System
The Sd-50/GPS40 is a complete Audio and Show Control solution. The Satellite Synchronized GPS option allows sounds and shows to be scheduled to play at any time of the day or night with phenomenal accuracy. They are used in school and factory bell systems, audience recall systems for theaters, automated fountains, and animated shows, and church and municipal bell and clock towers. Since these are true audio playback devices and not synthesizers, you are not limited to playing back just 'bell' sounds. Any sound that can be recorded can be put onto them. Schools have used them to play back their 'fight' songs and churches have recorded their choir or a favorite hymn. Mosques can use them for calls to prayer.
Features of the Sd-50/GPS40 include:
GPS is used where radio signals are unavailable, or you need to trigger sounds and shows based on time or date.
Stand alone stereo playback of standard Mp3 or .WAV audio files. Up to 255 different AudioFiles can be selected and played. Sound capacity is limited to 2GB (or smaller) MMC/Sd memory cards that are formatted with FAT32 only.
Two line level outputs (RCA Jacks) and 100 Watt stereo Class-D amp with the power of a 400 Watt amp.
'Drag-n-drop' downloading of SoundFiles to your MMC/Sd flash card from your computer.
All configuration is done through a user friendly Windows-based program. Calendar-style scheduling lets you set the schedule for sounds and shows for a specific day, day of the week, or range of dates. Can automatically switch to seasonal schedules or play specific sounds and shows on specific dates.
Optically isolated 'switch' inputs can be used to disable automatic playbacks during other events, to call up specific sounds when needed, or lower or raise the volume level.
Eight (Sd-50/GPS8) or forty (Sd-50/GPS40) digital (on/off) Show Control outputs. These can be used to turn on and off lights, or to control 'regulator'-style clock movements. If taking advantage of the show control half of the Sd-50s, you can run a fountain or other animated show from these outputs.
DMX-512 output to control dimmers, strobes, wiggle lights, etc. Light up your clock tower just before it strikes!
Networkable! Can be controlled through the RS-232 or networked RS-422 serial ports, MIDI, or IR.
Mounts stand alone, in 2-3/4″ Augat Snap Track, on DIN rail (w/adapters) or in a Sd-50 vBr-CC10 card cage.
Runs on any voltage from twelve to twenty-four vdc. Can be operated from batteries and/or solar panels.Sd-50/GPS40 package contents:
Sd-50/GPS40: Sd-50/40 with GPS Clock Option
GPS-Clock: Global Positioning System (GPS) receiver locks to time and location signals from satellites. Includes adapter and cables.
MC-Sd Flash Card: MC-Sd Secure Digital (Sd) Flash Card
USB-Card-Rd/Wr: USB2.0 Flash Card Reader/Writer. Requires no software or drivers. For programming Secure Digital (Sd) memory cards.
PS-24vdc/5.0A: 120 Watt switching supply featuring 95-250 vac in 24 vdc 5.0 Amp outputs (specify country of use)
C-LineCord-2c/USA: Two conducter 115vac line cord.
Mp3-50/CBL: RS-232 serial cable
C-50Trans: Adds screw terminal and Servomotor outputs
GilderTweaker: Small screwdriver set
GilderCD: CD-ROM with all Gilderfluke software manuals, application notes, drivers and sample filesNote: Parts may differ from those shown
Note: Parts may differ from those shown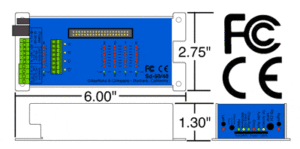 Warning: For proper operation of your SD-50 use a 2 GByte or smaller SD memory card and format it using FAT32. All other file systems are incompatible. SDHC memory cards will not work in this device.
Sd-50/GPS40 Suggested Accessories: